New York
,
Dakar
,
Paris
,
Munich
Everybody's Talkin' 'bout (Afro) Pop Music
By Sara Bruya (c) 2001

Riding up Tenth Avenue in a cab, the driver is singing along with the radio. "That's Salif Keita!" I say, proud of myself for recognizing the great Malian singer over the scratchy airwaves. "Ah, You know African music??" the driver smiles, "Very Good! VERY GOOD!" I took the compliment, but didn't really deserve it. I've really only just begun to scratch the surface of the many styles and artists which comprise the sounds of "Afro-Pop."

My first exposure to modern music from the African Diaspora was in high school, when I would take a break from my homework to listen to Afro-Pop Worldwide on NPR ("with your host Georges 'Zzzhorsh' Collinet!") But the African Pop scene hadn't struck big in my small Montana town…(oh, there were drum circles, but that's quite another story!) So I had to stumble across it again many years later--on an 18-hr layover in London--to experience the excitement of the real live thing! And to the credit of this great metropolis, though still lagging behind Europe's appreciation for Afro-Pop, I've discovered it pulsing and jamming in crowded little New York night spots…alive and well…and growing!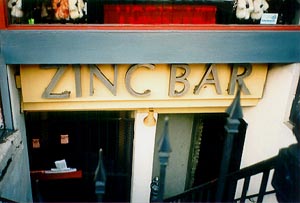 I can't remember the first time I set foot in Zinc Bar – a cozy downstairs dive just west of LaGuardia on Houston – but I think I was first charmed by the Moroccan-inspired décor in the little back room and the fact that they featured great live jazz for a $5 cover. That must have initially drawn me back there to hang on a Friday night…where I first encountered a band that would re-ignite my passion for African Pop and keep me on the dance floor all night and almost every Friday since.
The band is Kaïssa, named for Kaïssa Doumbè, the elegant and charismatic lead singer from Cameroon. She's a gem of a woman—charming, stylish, and tres chouette! I was first struck by her embrace of the audience, both while singing and on her breaks. Between sets, she makes a point of introducing herself to new faces, making everyone feel welcome and familiar. When performing, Kaïssa charms the crowd with her incredible voice, broad smile and sexy moves! She's joined by her husband Maciek Schejbal on drums.
Kaïssa describes her sound as a blend of Reggae, Jazz, R&B, Makossa (a Cameroonian dance rhythm from the Douala region, and also the name of the country's most popular pop style*), African and Brazilian fusion. She also cites the following influences (which I'll include in full, because it's such a hearty head's up list for the Afro-Pop novice!):
Ngosso music from Cameroon (traditional singing from the Duala people)
Ambassibé music from Cameroon (traditional singing from the Sawa people)
Afro Beat from Nigeria and Cameroon (Fela Kuti, Niko Mbarga)
Mandingo music (Salif Keïta, Kassé Mady)
South African music (Myriam Makeba, Dorothy Masuka, Bussi Mhlongo)
Afro American music ( Ella Fitzgerald, Miles Davis, Jackson 5, Charlie Parker, Louis Armstrong, Chaka Khan, Stevie Wonder...)
Once becoming an "African Fridays" regular at Zinc, I discovered another of my favorites, Nkossi Konda with his band Peace of Mind. Nkossi, who was born in the Congo, gives an energetic performance of what he calls "Tri-cultural Pop," referring to the musical influences he gathered as a result of extensive travel between the U.S., Europe and Africa starting at an early age. The result is a lively blend of Funk, Soukous (a musical style popular in the Congo that grew out of '50s Cuban rhumba music*) and Reggae with Pop hooks that really gets the crowd out of their seats.
Nkossi draws influence from many of the great bands and individual artists from his country (Zaiko Langa Langa, Papa Wemba, Franco & Koffi Olomide and others) while acknowledging Marvin Gaye, The Commodores, Rod Stewart, Peter Gabriel, The Rolling Stones, The Beatles, The Police and especially Bob Marley as his primary "mainstream" influences.
"Tri-cultural pop represents the fusion between (the) three cultures that I have had the fortune and privilege of fully experiencing," Nkossi says. "My challenge has always been about becoming one of the first African artists to cross over on the U.S. charts while keeping alive my strong and proud African heritage."
And this could very well describe the challenge to Afro-Pop in general-- a form that crosses, without watering down, the best of ancient and traditional African rhythms with modern, progressive pop. But breaking into the American market is not easy.
"I sense that people are really open to our music," Kaïssa says. "They are kind of 'hungry' for it. They are ready to hear it! But let me say this: There are not enough venues to perform. Record companies are not open to even trying (to sign us). If they do, they do not know how to promote it they say. There's lots of work to do still."
Nkossi agrees. "The majority of major labels in the States have not yet figured out that there is a market for those of us who were raised abroad, speak the language fluently and understand the importance and the dynamics of our adoptive Cultures." But he adds, "Our world is getting smaller and more and more musicians are willing to fuse their sound with those from other cultures. The bottom line is that once you get past the language, it is just music!"
The success of this fusion can be heard in Nkossi's dynamic live performances and especially on his Adyoyoyo Mona Lisa album which has consistently remained in the top 15 on the Africa#1 charts since its release in June 1998. The song My World clearly incorporates elements of Soukous and even Rap (with a political message in multiple languages) in a catchy, feel-good pop tune, while the peaceful love ballad Can't Complain is beautiful ear-candy, combining again the English, French and Lingala languages with audible reference to Nkossi's Sting/ Peter Gabriel bent.
In addition to its fusion of sounds, Afro-Pop has a strong tradition of political and social activism. Kaïssa sings against war and injustice and has performed for AIDS Research, UNESCO, and for Nelson Mandela's Birthday Concert in South Africa. Nkossi cites, in addition to his musical influences, his admiration for great civil rights activists such as Gandhi, Dr. King, Malcolm X, and Mandela. His tune I Am Somebody from his Spring 2001 album Tamboula Malembe (a track which features Will Calhoun and Doug Wimbish formerly of Living Colour) is proposed as the theme for Amnesty International's 40th Anniversary Celebration this year.
The commitment of these performers to the plights of the human spirit seems only a natural outgrowth of their music. Afro-Pop, with its infectious dance rhythms and memorable melodies, can't help but bring one to feel more happy and alive! Be sure to experience it while such seasoned and talented performers are available in such an intimate and welcoming setting--for such a reasonable cover!
Nkossi Konda with his band Peace of Mind will be at Zinc Bar on February 16, 2001. Kaïssa Doumbè will be there the following Friday, February 23.
Sets start at 11:00, 12:30 and 2:00. $5 cover.
***
For a map of the African continent go to: http://www.lib.utexas.edu/Libs/PCL/Map_collection/africa/Africa.GIF
Contact Info and Recommended links:
Zinc Bar: 90 W. Houston Street 212-477-8337 – www.zincbar.com
Other venues which feature Afro-Pop in NYC include Nell's, Lion's Den (African Tuesdays), Joe's Pub, and SOBs.
Kaïssa Doumbè – www.kaissa.com
Nkossi Konda –Subukena@aol.com / tabilulu@msn.com / www.africasound.com
To order Tamboula Malembe or Adyoyoyo Mona Lisa, contact
Check out: www.afropop.org / www.africanmusic.org
Recommended Listening:
Kaïssa Doumbè:
Salif Keita – Soro

Manu Dibango – Wakafrika

Lokua Kanza – Wapi O

Miriam Makeba – Live in Paris & Conakry
Nkossi Konda:

Henri Dikongue – C'est La Vie

Richard Bona – Scenes From My Life

Youssou N'Dour – Lion

Papa Wemba – Le Voyageur/ Emotion/ Wake-Up

Viva la Musica – Place Vendome

Petit Makambo – Le Scorpion

Rene Lokua – Kumisama Yahwe

Vieux Diop – Banana
Sara B.:

Nkossi Konda – Adiyoyoyo Mona Lisa

Habib Koite & Bamada – Ma Ya

Etoile de Dakar (Featuring Youssou N'Dour) – Absa Gueye Vol. 1

Cheikh Lo – Ne La Thaiss

Fela Kuti – Expensive Shit/He Miss Road

Angelique Kidjo – Aye

Salif Keita – Papa